Vegan cabbage slaw with chicory
Wednesday August 19, 2020 - by Errer
Eating fresh salads is always a good idea on hot summer days, because you don't have to deal with hot pans which makes your home even hotter. A cold dish is the best you can serve on such days. This cabbage slaw with apple and chicory is completely vegan, super healthy and crunchy. My recipe is comparable with coleslaw, but with a few extra tasty ingredients. Coleslaw is a cold vegetable salad with white cabbage and a mayo/yogurt dressing. Usually served as a side dish and is often seen at barbecues. Earlier I made a chicory salad with celery and iceberg lettuce without cabbage, Go to this recipe.
Since we eat a few days in the week lowcarb, this dish is perfect as a main course. However, I add some walnuts and pieces of 'feta' to make it more complete. If you don't want to eat plant-based cheese, you can replace it for avocado. My vegan cabbage slaw is packed with vegetables like for example carrot, beetroot and fennel. What we really like about this salad is that the ingredients makes it all so crispy. In addition, I prepared a simple sauce with yogurt, mayonaise, mustard, white wine vinegar and agave syrup. It combines perfectly with the salad.
Ingredients vegan cabbage slaw
Carrot, finely chopped
Beetroot julienne, 75 grams
Chicory, 1 head, finely chopped
Apple, in little cubes
White cabbage, 300 grams, shredded
Red onion, minced
Fennel, finely chopped, handful
Pickles, 3 pieces, in little cubes
Walnuts, about 12 pieces
Violife Greek White, 75 grams
Parsley, 15 grams, roughly chopped
Pepper and salt
Mayonnaise (less fat), 3 tablespoons
Plant-based yogurt (e.g. Alpro), 2 tablespoons
Mustard, 1 tablespoon
White wine vinegar, 2 tablespoons
Agave syrup, 2 teaspoons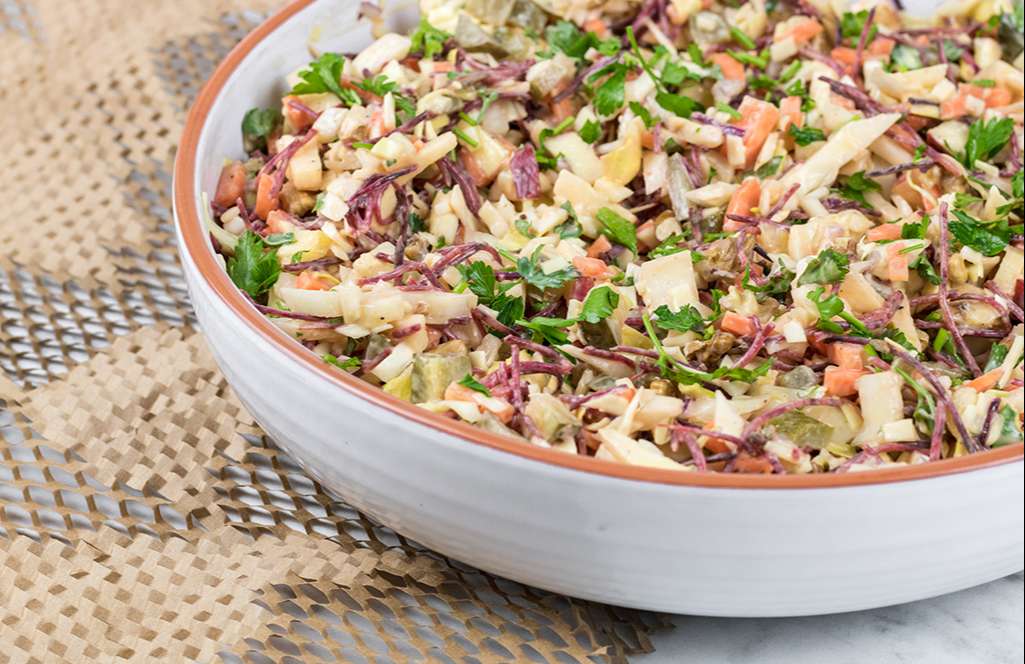 Method vegan cabbage slaw
First of all, this plant-based coleslaw is very easy to prepare because it is actually a matter of washing and cutting veggies.
First, start with the dressing by mixing the ingredients together in a bowl.
Then, if necessary, crack the walnuts and chop them roughly.
Now add all the vegetables together in a large bowl and mix in the dressing, walnuts and feta. Mix well to be sure all flavors are divided.
Season the cabbage slaw with salt and pepper and add some fresh lemon juice if desired.
Add chopped radish for extra veggies.
If you want to give your salad a tropical twist, you could add some chopped pineapple or mango.
When you desire some sweetness in your dish, choose for raisins. Also dates or figs are perfect choices.
This vegan cabbage slaw recipe is also perfect to serve at a barbecue.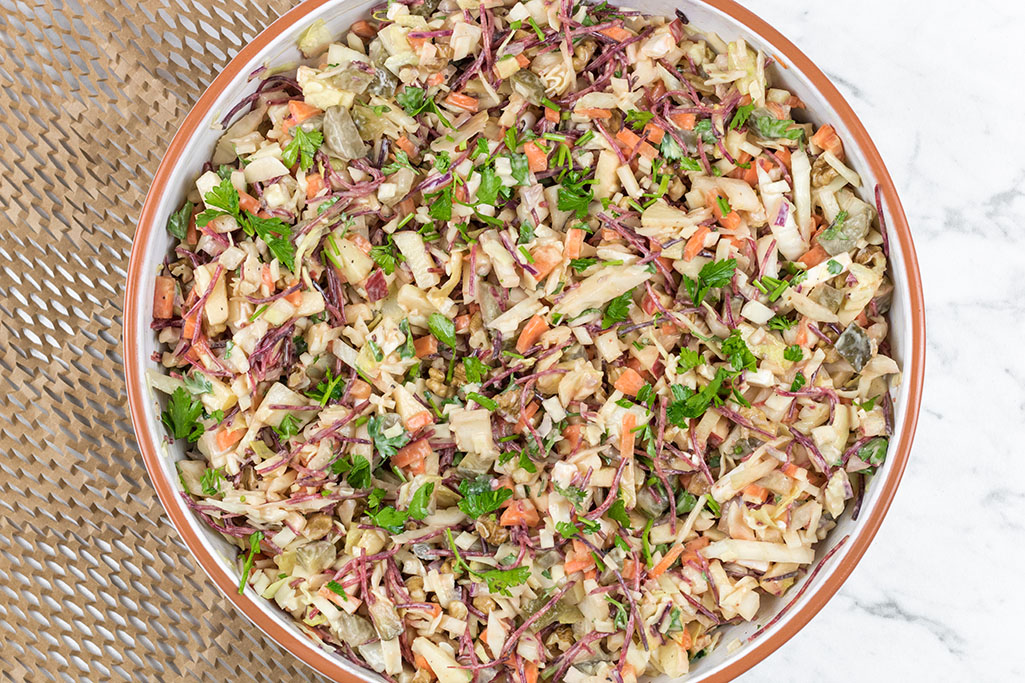 Did you prepare this recipe? Let us know on Instagram. Share it with us using #ERRERFOOD or tag us in your post. We love that! ♥