Vegan lentil meatballs with couscous salad
Wednesday November 20, 2019 - by Errer
Lentils are tasty, healthy and super versatile. In this recipe I used them for making vegan lentil meatballs. They turned out very delicious and they look very festive. Lentils are a great meat substitute as they contain lots of protein, iron and B vitamins. Besides, in comparison with meat, lentils are filled with fibers, contain no salt and no saturated fats. Another great advantage is that they also have a lower environmental impact.
For these balls I combined lentils with garlic, onion, cumin, smoked paprika powder, tomato paste and whole wheat flour. These lentil meatballs are a perfect match with an easy healthy couscous salad. Couscous combined with fresh spinach, fried red bell pepper, coriander, squeezed lemon and a good quality olive oil. Low carb and very nutritious.
We enjoyed this couscous salad even more as I served it in a large bowl with using no plates at all. Add the vegetarian meatballs on the salad, put some dollops of hummus and attack!
lentils, 400 grams canned, rinsed and drained (naturally, you can use dried lentils as well)
Garlic, 3 cloves, minced
White onion, 1 piece diced
Cumin powder, 2 teaspoons (or crush cumin seeds using a pestle and mortar)
Smoked paprika powder, 1 teaspoon
Tomato paste, canned, 70 grams
Whole wheat spelt flour, or use oatmeal using a food processor, 20 grams
Whole wheat couscous, 150 grams
Red bell pepper, 1 piece, chopped
Spinach, 2 hands full, washed and drained, tear the leaves in parts
Coriander, 1 handful, chopped
Half lemon, squeezed
Dash of olive oil
Hummus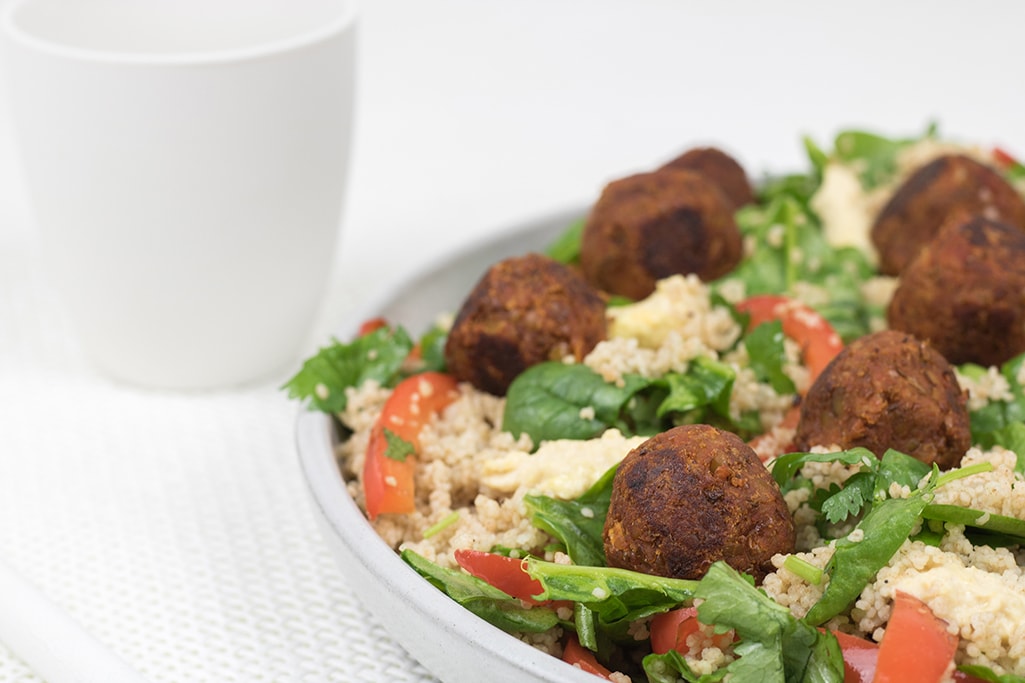 Recipe vegan lentil meatballs
Add the lentils in a food processor, together with the onions, tomato paste, cumin, smoked paprika powder, garlic and the flour. Turn on the machine and let the machine do his job until all ingredients are well mixed together into a dough. Form 20 smooth and firm balls with your hands and place them om a large plate, don't place them on each other but spread them. Let the vegan lentil meatballs rest for about half an hour in the fridge so they become slightly firmer.
Prepare the couscous.
Fry the red bell pepper in a skillet with a dash of olive oil. When ready, add the pepper in a large bowl.
Remove the lentil balls from the refrigerator and fry them in the same skillet with a dash of olive oil over medium heat until browned. The lentil balls remain relatively soft. Be careful while turning them frequently.
Add the coriander, lemon juice, spinach leaves, a dash of olive oil and the couscous to the bowl and mix all ingredients.
Place the vegan meatballs on the healthy couscous salad and add some hummus on top of it. We really enjoyed this meal!
Vary with veggies for your salad or use rice or quinoa instead of couscous.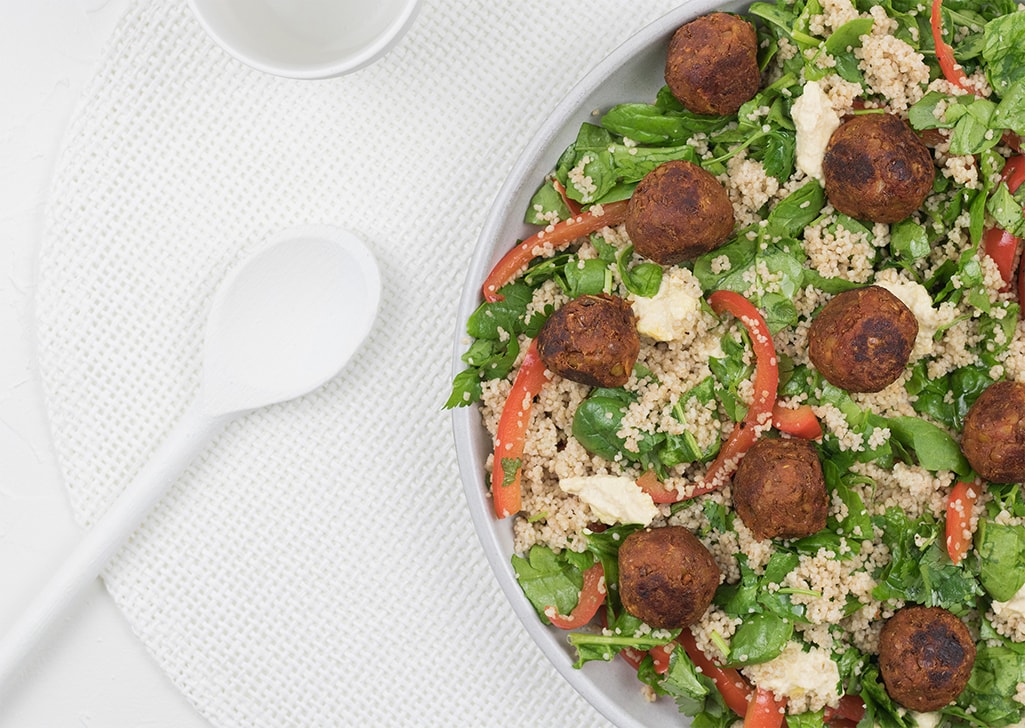 Did you prepare this recipe? Let us know on Instagram. Share it with us using #ERRERFOOD or tag us in your post. We love that! ♥