Vegetarian Mexican lasagna
Sunday February 2, 2020 - by Errer
Combining Mexican with Italian cuisine should result in a great dish right?! Combine beans and corn with lasagna and you end up with a vegetarian Mexican lasagna. A very nutritious meal with whole grain lasagna sheets, chickpeas, kidney beans, corn, bell pepper and carrot. Lots proteins and fibers. Naturally, you can make the Mexican spice mix yourself, you will find my simple recipe below. But choice is yours, choose whatever you like and make it as spicy you want.
This Mexican lasagna recipe is completely plant based and is topped with halved cherry tomatoes and sprinkled with vegan cheese from the brand Simply V. We found out this cheese melts and even becomes a bit crunchy in the oven, we loved it. Instead of vegan cheese you can use noble yeast flakes or pieces nacho chips. Nacho is less healthy obviously.
Ingredients Mexican lasagna
Vegetarian Mexican lasagna
Package whole grain lasagna sheets (I didn't use all the sheets)
Chickpeas, canned, 400 grams, rinsed and drained
Kidney beans, canned, 310 grams, rinsed and drained
Corn, canned, 200 grams, rinsed and drained
Red bell pepper, 1 piece, chopped
Carrots, 2 pieces, finely chopped
Chili pepper, 1 piece, minced
Red onion, 1 piece, diced
Garlic, 4 cloves, minced
Chopped tomatoes, 2 cans a 400 grams
Cherry tomatoes, 8 pieces, halved
Paprika powder, 2 teaspoons
Cumin powder, 2 teaspoons (or crush cumin seeds using a pestle and mortar)
Cinnamon, 1 teaspoon
Oregano 1 teaspoon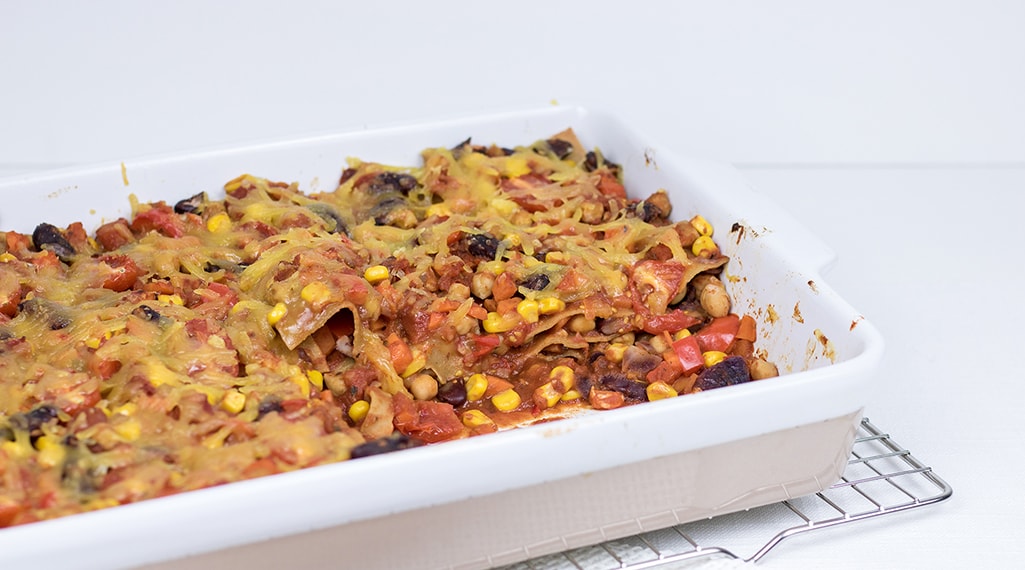 Recipe vegan Mexican lasagna
Peel the carrots and chop into small pieces. Clean the bell pepper, remove seeds and cut into pieces. Dice the onion and finely mince the chili pepper.
Prepare the Mexican spice mix by putting all spices together.
Grease a baking dish with olive oil and preheat the oven to 180 degrees celsius.
Add a dash of oil to a wok and fry the carrot, bell pepper, chili pepper and onion for a few minutes until the vegetables are slightly soft. Then squeeze the garlic above the wok and add the spices.
After a few minutes, add the chickpeas, beans, corn and the canned tomatoes and a splash of water (about a third of the empty tomato can). Lower heat and let simmer for 10 minutes.
Build the vegetarian Mexican lasagna by starting with a layer of sauce. A second layer of sheets and repeat, end with a layer of sauce. Eventually, I had 3 layers of sheets and 4 layers of sauce.
Divide the cherry tomatoes over the sauce with the cutting side up. Sprinkle the dairy free cheese at last and bake it in the oven for half an hour. Enjoy!
Serve with nacho chips or crumble the chips and sprinkle over the easy vegan lasagna for the last 10 minutes before it is ready. Less healthy but very tasty!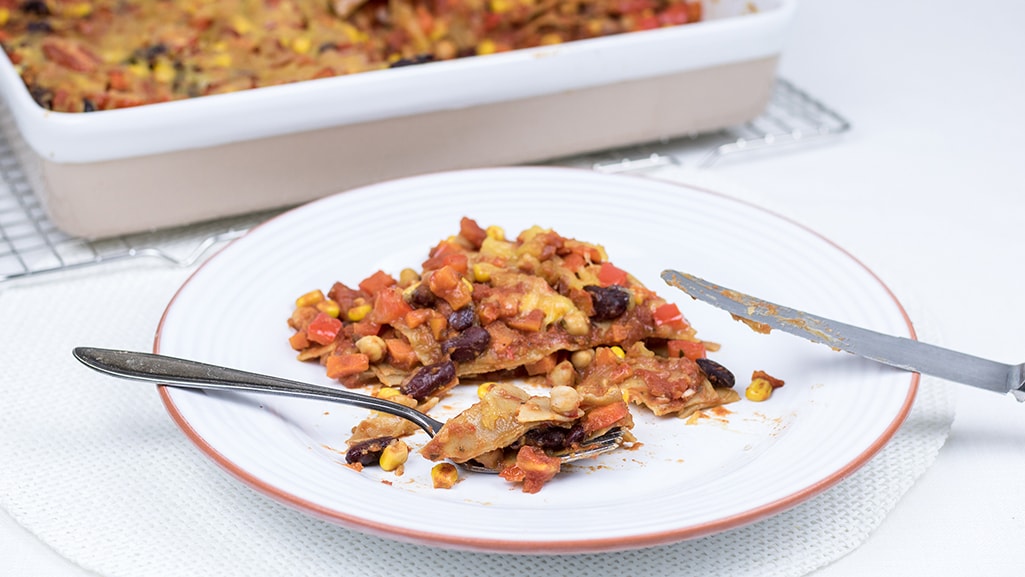 Did you prepare this recipe? Let us know on Instagram. Share it with us using #ERRERFOOD or tag us in your post. We love that! ♥