Tuesday March 24, 2020 - by Errer
In this recipe for vegetarian pesto pasta I used the basil pesto we described earlier on our website. I combined this delicious sauce with wholegrain spaghetti, plant-based chicken, mushrooms, roasted sunflower seeds and nutritionnal yeast flakes. As a side dish for this pasta pesto recipe I serve a fresh easy salad to add some extra vegetables.
A few days a week we eat low carb. This means we cook meals with limited carbs for dinner. Usually we halve the portion that's described on the package. So instead of using 75 grams of pasta per person, we eat this amount with the two of us. Instead, we add extra vegetables to our meals to keep our stomachs happy. We also added less spaghetti to this vegetarian pesto pasta, but of course you can choose the desired amount of carbs by yourself. Naturally, if you are going to exercise after a meal, you will need more carbohydrates. If you are planning to relax on the couch in the evening you don't need many carbs.
Furthermore, this recipe is very simple and it doesn't take loads of time. In addition, this meal is very healthy and nutritious. Of course, you can choose to fry some other veggies together with the mushrooms such as bell pepper, zucchini or onion. Or add some arugula and cherry tomatoes in the end. Adjusting this pasta pesto to your own preferences is very easy.
Wholegrain spaghetti, 150 grams (advised portion described on the package)
Plant-based chicken
Mushrooms, 300 grams in slices
Avocado basil pesto (I didn't used all of it)
Sunflower seeds
Noble yeast flakes (optional)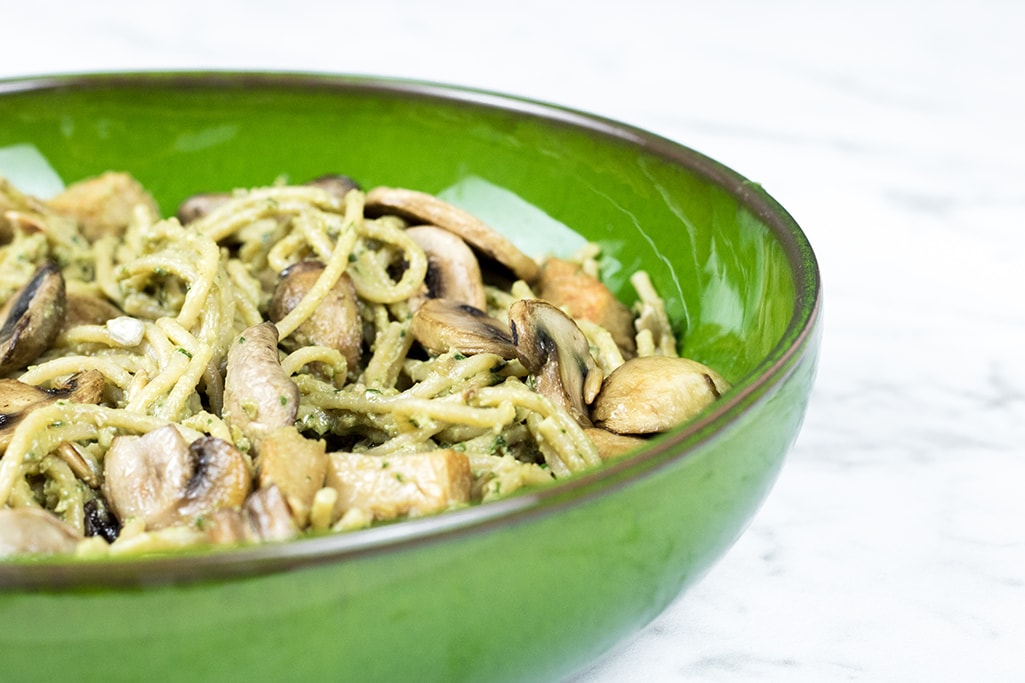 Prepare the basil pesto described in this recipe or make your own.
Cook the spaghetti as described on the package.
Roast the sunflower seeds a few minutes in a dry skillet on medium heat until colored brown. Remove the seeds and put them in a little bowl. Roasting the seeds certainly adds value to this meal. It adds extra flavor to the pasta pesto.
Add some olive oil in the same skillet you used for roasting the seeds. Fry the vegan chicken on medium heat until crispy and brown colored.
In the meantime, drizzle a tablespoon olive oil in a large wok and fry the mushrooms.
Add the spaghetti and the pesto to the mushrooms. Finally, add the chicken pieces and mix everything well. If the spaghetti feels ''dry'' you can add a few tablespoons of water to the pasta.
Garnish the vegetarian pesto pasta with the sunflower seeds and noble yeast flakes if desired.
Serve with a fresh salad to add extra vegetables to this meal. The pasta pesto doesn't contain lots of veggies. Make a salad with lettuce or spinach for example and add cucumber, apple, cherry tomatoes and olives.
By the way, we highly recommend you to try Violife vegan feta, they call it Greek White. This vegan cheese is super delicious! We buy it at the Albert Heijn supermarket and the Violife products are quite affordable. In Europe you can find the Greek brand in many places. You only have to use a small piece of cheese to upgrade your salad.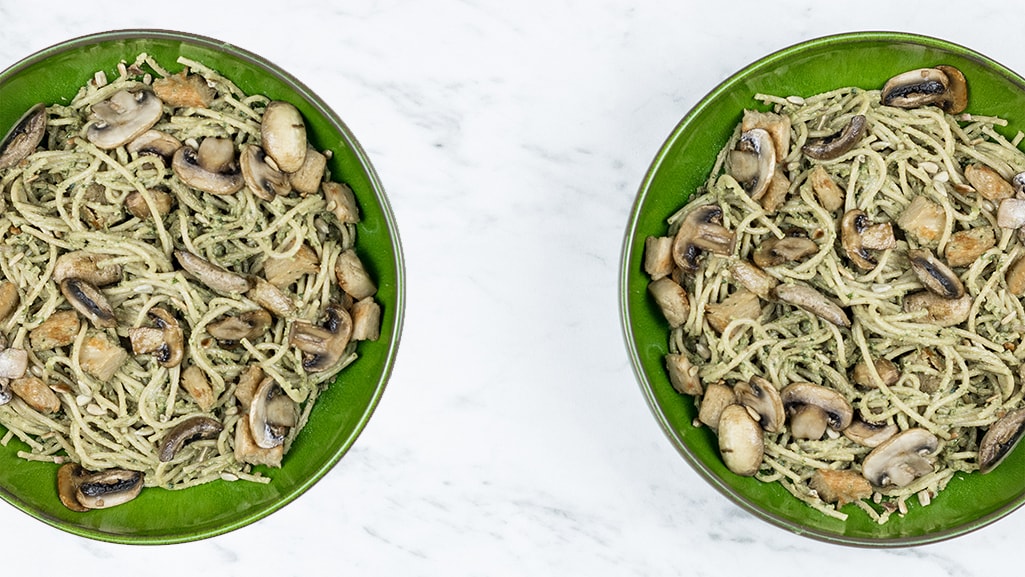 Did you prepare this recipe? Let us know on Instagram. Share it with us using #ERRERFOOD or tag us in your post. We love that! ♥