Monday July 8, 2019 - by Errer
Aperfect side dish for almost everything and we especially like to eat this vegetarian potato salad on hot summer days. You can serve the salad on a party, a BBQ or take it with you for a picnic. This salad with potatoes and apple is easy to prepare in large quantities.
Normally we don't make potato salad in winter, but why not actually I'm asking myself now? It's super healthy, tasty and very comforting food with all fresh ingredients.
My recipe for potato salad is vegan and cruelty free. There is obviously no need to use animals to achieve a yummy potato salad. Besides potatoes and apple, I added radishes, pickles and red onions. Fresh chives and a plant-based mayo yogurt sauce with mustard and kecap complete the salad. We like the different flavors and the crunchiness in this potato apple salad.
Ingredients potato salad vegetarian
Waxy potatoes, 2 kilos
Apples, 2 pieces, sweet-sour taste (I used elstar), cored and cut into chunks (leave the peel on)
Radishes, 12 pieces, chopped
Pickles, 8 pieces, chopped
Red onions, 2 pieces, diced
Snipped fresh chives, 4 tablespoons
Olive oil, 4 tablespoons
Lemon, half piece
Vegan mayo, 2 tablespoons
Plant-based yogurt, 2 tablespoons
Sweet kecap manis (Also spelled as ketjap), 2 teaspoons
Mustard, 3 teaspoons, add to taste
Ground pepper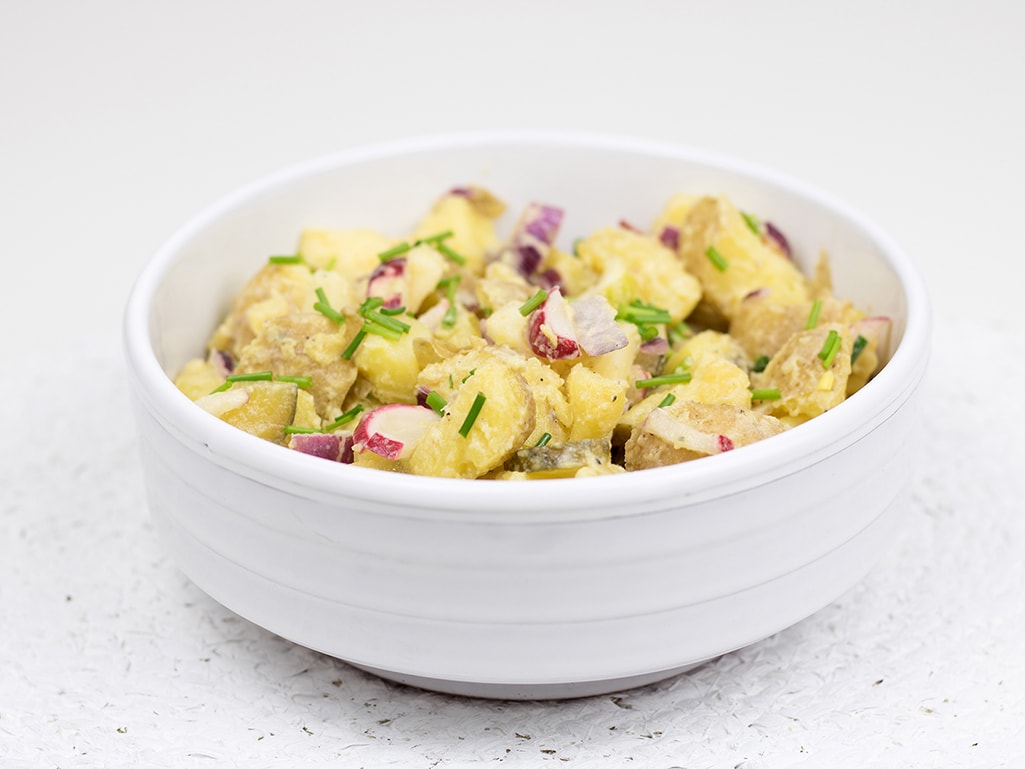 Recipe potato apple salad
Wash and scrub the potatoes under running water. Use a brush to remove dirt and sand.
Put the potatoes in a large saucepan of boiling water and simmer gently for about 15-20 minutes, until tender. Pierce with a fork. Don't overcook, the potatoes should not be falling apart when cut.
Drain, let them cool of to room temperature.
Chop the potatoes before adding to the potato apple salad (you can peel the potatoes first, but why should you, I don't feel the need). Add 4 tablespoons olive oil, ground pepper and squeeze the lemon, toss gently.
Prepare the sauce by combining the mustard, kecap, mayo and yogurt, then whisk.
Add the apple, onions, radishes, pickles and chives (not all of it) and the dressing to the cooled potatoes and give a gentle toss, until well combined.
I do recommend to refrigerate the vegetarian apple salad for a couple of hours to allow the flavors to meld.
Serve the potato salad in a large bowl and garnish with chives and freshly ground black pepper to brighten it up.
If you have leftovers, you can keep the potato salad in the refrigerator for a few days.
If you like walnuts, you can add them for more crunchiness.
Celery will fit perfectly in this potato salad.
Add capers instead of pickles.
You can cook the potatoes a day in advance and keep them in the refrigerator before use.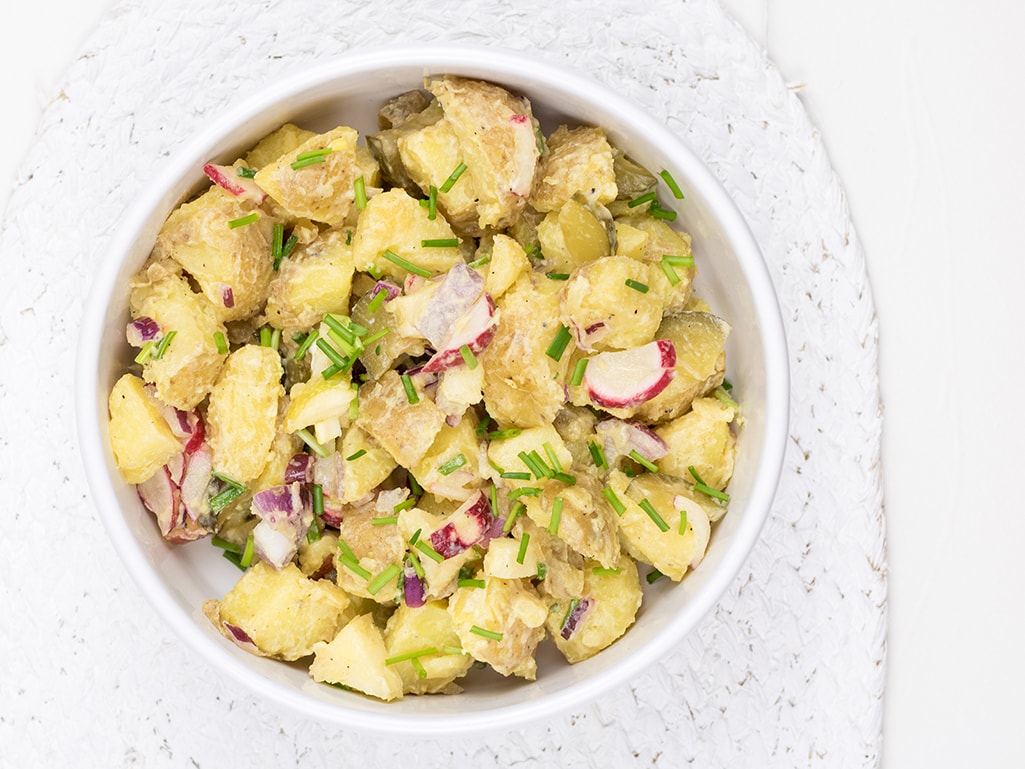 Did you prepare this recipe? Let us know on Instagram. Share it with us using #ERRERFOOD or tag us in your post. We love that! ♥